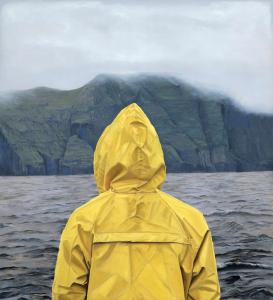 "White Noise": A solo exhibition by Adam Hall, exploring nature's sanctuary from life's chaos, opening at Abend Gallery, Denver, CO, on August 12th.
Exploring the landscape always yields a return of inspiration that overflows into my art."
— Adam Hall
DENVER, CO, UNITED STATES, July 30, 2023/EINPresswire.com/ — Abend Gallery, one of Denver's leading fine art galleries, is thrilled to announce the opening of "White Noise," an exclusive solo exhibition featuring the latest collection by landscape painter, Adam Hall.
Exhibition Information:
Title: White Noise: Adam Hall Solo Exhibition

Dates: August 12 – August 30, 2023

Opening Reception: August 12, 4 – 6 PM (The artist will be in attendance.)

Location: Abend Gallery, 1261 Delaware St, Denver, CO, 80204

For those unable to attend in person, the complete show will also be available for viewing and purchase online on the gallery's website.
The presentation of Adam Hall's work aligns with Abend Gallery's commitment to showcasing exceptional representational artwork and connecting it to a diverse audience. "White Noise" marks Hall's debut solo show with the gallery, adding to Abend's portfolio of impressive exhibitions.
Hall's work is distinguished by its immersive quality, inviting viewers to step into each scene and experience the solace of nature amidst the chaos of modern life. His experiences touring the world with bands and working with non-profit organizations have deeply influenced his artistic perspective and themes, including the impact of spending time in Rwanda.
With each collection, Hall seeks to build upon and diverge from his previous works, and "White Noise" is no exception. The exhibition features a mix of concepts Hall has never attempted before and others that are a continuation of past explorations.
This is a significant moment for Hall and Abend Gallery, and we are excited to share it with you. We invite you to join us for the opening reception or explore the exhibition online.
David Ethridge
Abend Gallery
+1 303-355-0950
email us here
Visit us on social media:
Facebook
Twitter
Instagram
TikTok


Originally published at https://www.einpresswire.com/article/647105414/abend-gallery-proudly-presents-white-noise-a-solo-exhibition-by-landscape-artist-adam-hall