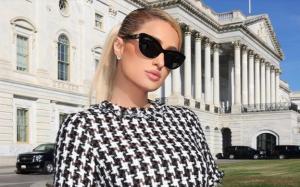 The panel discussion will take place before thousands of mass tort attorneys who could investigate exploited teen cases and pursue justice for survivors.
My next move is to present the matter to thousands of attorneys who can fight to hold accountable industry culprits who continue to evade the judicial system."
— PARIS HILTON
PENSACOLA, FL, UNITED STATES, July 20, 2023/EINPresswire.com/ — Levin Papantonio Rafferty (LPR) law firm announces that Advocate, Entrepreneur, CEO and Co-Founder of 11:11 Media Paris Hilton will speak at the Mass Torts Made Perfect (MTMP) Seminar about the "troubled teen" industry's abuse, neglect, and exploitation of teens.
Hilton will address an audience of nearly 2,000 mass tort attorneys at the opening session of MTMP on October 11, 2023, in Las Vegas. She will share the abuse she experienced in the '90s at four youth residential treatment programs to which she was sent, including the infamous Provo Canyon School. She will also talk about her strategic efforts to end the abuse, neglect, and exploitation of youth at such facilities.
"I have made it my personal mission to help the hundreds of thousands of youth who today are still enduring the same forms of abuse I experienced," Hilton said. "Since sharing my story publicly in my 2020 YouTube Originals Documentary This is Paris, I have partnered with passionate legislators at the state and federal level to introduce and pass legislation that prevents these acts from repeatedly occurring."
"My next move is to present the matter to thousands of attorneys who can fight to hold accountable industry culprits who continue to evade the judicial system."
Hilton's participation in grassroots advocacy efforts to reform youth treatment facilities has led to the passage of 7 state laws, the introduction of the bipartisan federal Stop Institutional Child Abuse Act, a federal investigation, mass media attention on the issue, and hit podcast Trapped in Treatment from 11:11 Media, Warner Bros. Unscripted TV in Association With Telepictures, and iHeart Media.
Hilton co-founded 11:11 Media Impact, the nonprofit arm of her next gen media company 11:11 Media, to defend the rights of children and women worldwide to ensure they can live happy, free, and safe lives through a powerful combination of philanthropy, strategic advocacy, and thought-provoking storytelling.
Hilton will join a panel discussion with LPR Senior Partner Mike Papantonio; LPR Attorney Caleb Cunningham, who is leading LPR's litigation on behalf of youth who were harmed in "troubled teen" facilities; Oregon Sen. Sara Gelser Blouin; and Meg Appelgate, Co-founder and CEO of Unsilenced, a national nonprofit dedicated to the survivors of institutionalized abuse in the "troubled teen" industry.
"We are honored to have someone with Ms. Hilton's insight join us on this panel," Papantonio said. "She has demonstrated a fierce commitment to stopping the abuses that occur at these so-called 'treatment centers,' 'wilderness camps,' and 'reform schools.'
"Her courage in coming forward about her own experiences has given a voice to otherwise voiceless youth, and by addressing this massive group of attorneys, she will effectively call in the troops to fight on victims' behalf."
Litigation on Behalf of "Troubled Teen industry" Survivors
Survivors of these youth "treatment" facilities are filing lawsuits alleging that the "troubled teen" industry serves as a continuous source of abuse, including emotional, physical, and sexual, leading to a lifetime of trauma and in some instances, death. Attorneys who represent victims of this unchecked industry aim to hold facilities and programs accountable for the damages caused by their negligence and wrongful conduct.
Defendants in these lawsuits operate under the guises of youth residential treatment centers, wilderness programs, boot camps, therapeutic boarding schools, and reform schools.
The legal premise of these lawsuits is that the unregulated "troubled teen" industry prioritizes profits over safety, deploying elusive and deceptive marketing practices that take advantage of well-meaning parents, judges, and psychiatric professionals.
About MTMP
Mass Torts Made Perfect is a place for plaintiff attorneys and paralegals to connect, network, and learn more about the top mass tort and class action lawsuits in the country. The three-day semi-annual conference is the largest plaintiff gathering in the world—with more than 2,000 participants (from over 500 law firms). At each event, sessions cover every type of mass tort and class action topics, including prescription drugs, medical devices, defective products, securities litigation, and consumer fraud.
About 11:11 Media
11:11 Media is a global, next-gen entertainment company at the center of pop culture – connecting content, community, and commerce – founded by Paris Hilton and entertainment industry veteran Bruce Gersh in 2021. The company spans a broad array of businesses including film, TV, audio, music, books, consumer products, digital and web3, with passion points around lifestyle, fashion, beauty, wellness, art, travel, and more. Elevating brands, building communities, and driving social impact through the power of storytelling, experiences, and products is the core mission of 11:11 Media.
Sara Stephens
Levin Papantonio Rafferty
+ +1 281-744-6560
email us here
Visit us on social media:
Facebook
Twitter
LinkedIn
Instagram
YouTube


Originally published at https://www.einpresswire.com/article/645534232/paris-hilton-to-speak-on-abuse-in-the-troubled-teen-industry-at-national-mass-torts-attorneys-conference