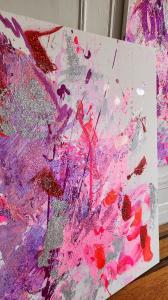 NEW YORK, NY, UNITED STATES, August 15, 2023/EINPresswire.com/ — The world of art is a vast canvas that allows artists to express their innermost emotions, experiences, and perceptions. Within this realm, color plays a pivotal role. It conveys meaning and evokes emotions. One such color that has captivated the hearts and minds of artists, enthusiasts and viewers alike is the color pink. We will delve into the allure of the color pink and explore its significance in relation to the works of artist Dunja Messer-Jourdain.
Pink is often associated with femininity, tenderness, and youthfulness. Its delicate and soft hues have the power to create a sense of warmth, joy and even nostalgia. It can symbolize love, beauty, and compassion. Dunja Messer-Jourdain, a contemporary artist, has skillfully harnessed the essence of the color pink to create visually stunning and emotionally resonant artworks. The artist is both cursed and blessed with an out of ordinary sensitivity to colors. Her creative process is both meditative and exploratory. The color pink is inevitably her default color – the color most agreeable to her playful persona.
Through her creative process it is possible for Dunja to explore her mental and emotional relationship to color and by extension to her greater environment. To the artist everything is color-coded. As she struggles to unravel her inner complexities and her relationship to the world at large, as well as the environment that she finds herself in at any given time, it is shades of pink that are her point of reference, her starting point, her home base, her core – her very psyche.
The artist's work creates a powerful visceral experience that features exhilarating explosions and flashes of brilliant color while simultaneously allowing for meditative focus. It dances in the light and draws the audience in. When pink meets the reds, the purples, the magentas, silvers, yellows, etc., it creates a dynamic interplay where pink subtlety serves to create the peace in the eye of the storm, the serenity inside of the chaos, the essence of grace under pressure.
Dunja Messer-Jourdain received her early training and exposure to fabrics at her family's traditional European master tailor atelier in Germany. She attended the College for Design in Hanover, Germany and the University of Applied Sciences in Bremen, Germany. The artist studied design, the making of textiles and coloring at Co-Optex International company in Chennai, India. Dunja Messer-Jourdain currently lives in NYC and works from her studio in Manhattan.
Dunja Messer-Jourdain
Candy & Lipstick Art
email us here
Visit us on social media:
LinkedIn
Instagram
YouTube
TikTok
Other
Barbie and friends


Originally published at https://www.einpresswire.com/article/650030113/the-enigmatic-allure-of-pink-artist-dunja-messer-jourdain-and-the-color-of-the-year