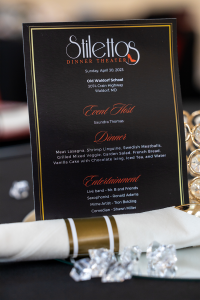 Stilettos Dinner Theater provides top-notch food and fun through pop-up events in the DMV.
Attend One of Our Upcoming Events at Stilettos Dinner Theater
We provide a performing platform for some of the finest musicians, comedians, singers, actors, and dancers in and around the nation's capital."
— Linda Whalen, CEO of Stilettos Dinner Theater
WASHINGTON, DC, UNITED STATES, July 9, 2023/EINPresswire.com/ — To the delight of fun-lovers in the Washington, D.C. area, Stilettos Dinner Theater is quickly gaining ground as a unique entertainment experience that offers top-notch food and fun. Founded in 2022 by entrepreneur Linda Whalen and co-owned and operated by Linda (the CEO) and three other African American women, Stilettos offers pop-up events in the DMV that includes live music; a showcase of singing, dancing, comedy, or poetry; and a chef-prepared meal.
Linda recently sat with Talk About It program host Stephanie Powell to discuss what the Stilettos experience is all about and why event-goers are adding it to their must-do list. Here's what she shared:
Talk About It: What is the Stilettos experience?
Linda: The Stilettos experience is high-quality entertainment in the DMV area delivered through pop-up events that provide a delicious chef-prepared meal served by our attentive staff and a medley of live performing arts delivered in safe environments. The experience provides a chic recreational space for Stilettos event-goers to put their cares aside and allow themselves to be taken on a pleasurable two-and-a-half-hour ride of sophistication, laughter, and clean fun. My partners and I aim to exceed the expectations of our customers, as we offer this experience once a month for those residing in or visiting the greater Washington, D.C. area. Our event-goers describe the Stilettos experience the best through their testimonials that my marketing team receives and posts on our Stilettos website. I encourage everyone to visit the website and check out those reviews. One of the testimonials on the website is from a recent customer, Virginia Wallace, who captured the essence of what most reviewers have said.
Virginia stated:
"A truly delightful evening and a feast for the senses. The venue was decorated beautifully in the Stilettos signature colors. The live band set the groove for the evening with several guest singers. The chef prepared a delicious meal, and the comedian had the crowd hollering and laughing out loud. Thank you to the Stilettos Team for a wonderful time!"
Talk About It: What makes Stilettos Dinner Theater unique?
Linda: Stilettos stands out from other dinner theaters in several respects. First, we provide what our team refers to as multiple acts—three acts to be exact. Act One delivers live music by a local band from the DMV; Act Two provides a delicious chef-prepared meal that includes an entrée, beverage, and dessert; and Act Three offers a delightful and exhilarating song, dance, comedy, or poetry performance. Through Acts One and Three, we provide a performing platform for some of the finest musicians, comedians, singers, actors, and dancers in and around the nation's capital. The other thing that sets us apart from similar businesses is affordability. We offer a high-quality entertainment experience with a meal for less than $70.
Talk About It: What are your long-term plans for Stilettos?
Linda: We plan to take the Stilettos experience to higher heights, by moving from pop-up locations to a permanent brick-and-mortar location in the DMV. We're narrowing down our location prospects now and looking forward to securing our permanent location within the next 12 to 24 months. After doing so, we'll increase our event frequency from once a month to four days a week.
Talk About It: You've said Stilettos Dinner Theater represents one of your biggest dreams that is now coming to life. What advice would you give to other aspiring entrepreneurs who want to realize their dream of becoming a business owner?
Linda: If you're someone with aspirations of business ownership, believe in yourself, be passionate about your business idea, do your market research, and pursue it! In my case, I always aim to bring joy into the lives of others, so with Stilettos, I am fulfilling my dream of bringing a little joy into the lives of others through the Stilettos Dinner Theater entertainment experience.
My additional advice is to educate yourself by talking to experts in the various aspects of your business then press forward and take informed action. Make sure you have trusted, capable, and committed partners and that you're all operating under a unified vision. Network with individuals and organizations that can help you realized the vision. Be patient with yourself and make adjustments to your plan of action as needed.
Talk About It: You have an event coming up on July 30 and other events scheduled this year. How can those interested in attending a Stilettos Dinner Theater event get more information and purchase tickets?
Linda: To learn more about Stilettos—including dates, locations, and times of upcoming events—and to purchase tickets, visit our website at www.stilettosdt.com. Ticket purchase is made via Eventbrite. Consider a Stilettos event as an ideal gift for any type of celebration, a venue for a first date, or a recurring activity throughout the year.
On behalf of our team, I thank new and returning customers for their support.
————-
This interview was arranged by marketing and content service provider ASP Management (visit https://www.aspmanagementagency.com and follow on Instagram @aspmgt) and conducted by Stephanie Powell, host of the wellness and lifestyle program Talk About It (follow on Instagram @talkaboutitprogram and subscribe on YouTube @talkaboutitprogram).
Stephanie Powell
ASP Management
+1 202-735-7977
email us here
Visit us on social media:
Facebook
Twitter
Instagram
YouTube
TikTok


Originally published at https://www.einpresswire.com/article/643821643/unique-and-lively-entertainment-experience-popping-up-in-the-d-c-area