The brilliance of a sunrise over the mountains. Connecting with nature not only uplifts the soul but also promotes our well-being. Take a moment to embrace the serenity of this mesmerizing scene and let the wonders of nature invigorate your mind, body, and spirit.
Whether it's a brisk walk, a refreshing run, or an invigorating yoga session, let the beauty of the outdoors fuel your workout and uplift your soul. Breathe in the fresh air, soak up the sunshine, and let nature be your ultimate gym.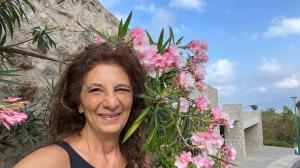 With her unwavering commitment to holistic wellness, Dr. Akoury embraces the power of nature as a catalyst for healing. Join her on the transformative journey of holistic medicine and discover the incredible potential that lies within you.
Embodying Transformation and Harmony: The AWAREmed logo symbolizes our holistic approach to wellness, uniting mind, body, and spirit for optimal well-being. Join us on a transformative journey towards lasting health.
Harnessing the Power of Nature: Dr. Akoury Stresses the Importance of Sunlight, Vitamin D, and Daily Movement in Promoting Holistic Wellness
Keep your face to the sun and you will never see the shadows."
— Helen Keller
JOHNSON CITY, TENNESSEE, UNITED STATES, July 14, 2023/EINPresswire.com/ — Dr. Akoury, renowned physician and founder of AWAREmed Health and Wellness Resource Center, emphasizes the importance of getting outside every day to promote optimal health and well-being. With a strong belief in the transformative power of nature, Dr. Akoury highlights the benefits of exposure to natural sunlight, daily movement, and their impact on melatonin production, Vitamin D levels, and immune system function.
Exposure to natural sunlight is a crucial factor in maintaining a balanced sleep-wake cycle. Melatonin, a hormone responsible for regulating sleep patterns, is produced in response to natural light exposure. Dr. Akoury encourages individuals to prioritize spending time outdoors to support the body's natural rhythm and promote restful nights and energized days.
Sunlight also plays a significant role in Vitamin D production, a vital nutrient that contributes to bone strength, immune function, and mood regulation. Dr. Akoury urges people to step outside and embrace the sun's rays, allowing their bodies to soak up this essential vitamin and enjoy its numerous health benefits.
In addition to sunlight, Dr. Akoury emphasizes the importance of daily movement and exercise for a robust immune system. Engaging in physical activity increases circulation, enhances lymphatic flow, and strengthens the body's defense mechanisms. Whether it's a leisurely walk, a yoga session, or a vigorous workout, Dr. Akoury encourages individuals to prioritize regular movement to support overall well-being.
"The simple act of spending time outdoors, connecting with nature, and engaging in movement can have profound effects on our health and vitality," says Dr. Akoury. "By incorporating these practices into our daily lives, we can enhance our physical, mental, and emotional well-being."
As an advocate for holistic wellness, Dr. Akoury urges individuals to prioritize time outdoors, even if it's just for a few minutes each day. Embrace the rejuvenating power of nature, bask in the sunlight, and engage in physical activity to nurture the body, mind, and immune system.
About AWAREmed Health and Wellness Resource Center:

AWAREmed Health and Wellness Resource Center, founded by Dr. Akoury, is a leading integrative medicine facility that combines the best of modern medicine with holistic approaches to provide comprehensive, personalized care. With a focus on preventive medicine, natural therapies, and promoting overall well-being, AWAREmed is dedicated to empowering individuals to achieve optimal health and live their best lives.
Dalal Akoury
AWAREmed Health and Wellness Resource Center
+1 843-957-1196
email us here
Visit us on social media:
Facebook
LinkedIn
Instagram
YouTube
TikTok
Harnessing the Power of Nature with Dr. Akoury – Unlock Your Brain's FULL Potential


Originally published at https://www.einpresswire.com/article/644511646/dr-akoury-from-awaremed-advocates-for-outdoor-time-unlocking-the-benefits-of-sunlight-and-movement-for-optimal-health