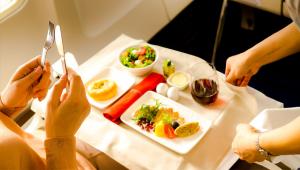 The increasing disposable income of individuals is allowing them to spend more on luxury air travel, which is positively influencing the market
SHERIDAN, WYOMING, UNITED STATES, September 4, 2023/EINPresswire.com/ — How Big is The Inflight Catering Market?
The global inflight catering market size reached US$ 12.8 Billion in 2022. Looking forward, IMARC Group expects the market to reach US$ 16.4 Billion by 2028, exhibiting a growth rate (CAGR) of 3.96% during 2023-2028.
What is Inflight Catering?
Inflight catering is a specialized service offered by airlines to passengers while they are in flight. This service involves the preparation, handling, and serving of meals, snacks, and beverages, all of which are tailored to meet the aircraft's specifications and the preferences of the passengers. Inflight catering offers a wide range of menus that cater to various dietary requirements, including options for vegetarians, those who follow halal dietary guidelines, and individuals with gluten-free preferences. The portions are carefully measured to minimize waste and fit within the confines of limited space on an aircraft.
This service significantly enhances the overall passenger experience and satisfaction by providing delicious and convenient dining options during the flight. It contributes to the overall comfort and enjoyment of passengers throughout their journey. Additionally, inflight catering supports various job sectors and industries, including food production and logistics. It also presents unique marketing opportunities for both the airline and partnering brands, as it allows them to showcase their offerings to a captive audience.
Moreover, inflight catering extends its services to flights engaged in emergency and humanitarian missions, ensuring that passengers, crew members, and aid workers receive nourishment. Furthermore, there is a growing emphasis on incorporating sustainable practices in inflight catering, such as reducing plastic usage and minimizing food waste, aligning with the broader trend of environmental responsibility.
Request Free Sample Report: https://www.imarcgroup.com/inflight-catering-market/requestsample
Inflight Catering Market Trends and Drivers:
The increasing disposable income of individuals is allowing them to spend more on luxury air travel, which represents one of the key factors positively influencing the market. Additionally, the rising international and domestic air travel is catalyzing the need for inflight catering services. Airlines are offering specialized menus, including dietary, cultural, and premium options, which aids in enhancing the customer experience and boosting inflight catering demand. Apart from this, advancements in catering equipment are improving food safety and quality and supporting inflight catering services efficiently.
Furthermore, many airlines are incorporating sustainable practices like using local and organic ingredients and reducing waste, which is attracting consumer environmental awareness. Besides this, the increasing awareness among individuals about the importance of maintaining health and wellness is leading to the catalyzing demand for nutritious inflight meals and pushing airlines to adapt their catering. In addition, technology-enabled pre-booking and meal customization offer passengers more control, increasing overall satisfaction and demand for inflight catering. Furthermore, the rising focus of airlines on enhancing inflight retailing, including meals and snacks for purchase, is providing additional revenue streams and supporting the growth of the market. They are also forming agreements with local food suppliers to offer fresh and authentic meals to inflight passengers. Moreover, many leading airlines are partnering with celebrity chefs to curate gourmet meals to attract discerning travelers, which is strengthening the growth of the market. Moreover, the integration of advanced technologies, such as analytics and artificial intelligence (AI) for menu optimization and inventory management, and streamlining operations, is creating a positive outlook for the market.
Inquire Before Buying: https://www.imarcgroup.com/request?type=report&id=5237&flag=F
Who are The Key Players Operating in The Industry?
• AAS Catering Co. Ltd
• Abby's Catering
• Cathay Pacific Catering Services (H.K.) Ltd. (Cathay Pacific Airways)
• DO & CO Aktiengesellschaft
• Emirates Flight Catering (The Emirates Group)
• Flying Food Group
• Gategroup
• Jetfinity
• KLM Catering Services Schiphol
• LSG Sky Chefs (Lufthansa AG)
• Sats Ltd. (Singapore Airlines)
• Saudi Airlines Catering
• Universal Weather and Aviation Inc.
The report has segmented the market on the basis of region, food type, flight service type and aircraft seating class.
Breakup by Food Type:
• Meals
• Bakery and Confectionary
• Beverages
• Others
Breakup by Flight Service Type:
• Full-Service Carriers
• Low-Cost Carriers
Breakup by Aircraft Seating Class:
• Economy Class
• Business Class
• First Class
Breakup by Region:
• North America: (United States, Canada)
• Asia Pacific: (China, Japan, India, South Korea, Australia, Indonesia, Others)
• Europe: (Germany, France, United Kingdom, Italy, Spain, Russia, Others)
• Latin America: (Brazil, Mexico, Others)
• Middle East and Africa
Key highlights of the report:
• Market Performance
• Market Outlook
• Porter's Five Forces Analysis
• Market Drivers and Success Factors
• SWOT Analysis
• Value Chain
• Comprehensive Mapping of the Competitive Landscape
If you need specific information that is not currently within the scope of the report, we can provide it to you as a part of the customization.
Also Browse Latest Reports 2023:
Telemedicine Market Size 2023
Security Market Size 2023
Fintech Market Size 2023
About Us:
IMARC Group is a leading market research company that offers management strategy and market research worldwide. We partner with clients in all sectors and regions to identify their highest-value opportunities, address their most critical challenges, and transform their businesses.
IMARC's information products include major market, scientific, economic and technological developments for business leaders in pharmaceutical, industrial, and high technology organizations. Market forecasts and industry analysis for biotechnology, advanced materials, pharmaceuticals, food and beverage, travel and tourism, nanotechnology and novel processing methods are at the top of the company's expertise.
Elena Anderson
IMARC Services Private Limited
+1 631-791-1145
email us here
Originally published at https://www.einpresswire.com/article/653822013/inflight-catering-market-size-to-surpass-us-16-4-billion-by-2028-exhibiting-a-cagr-of-3-96-imarc-group