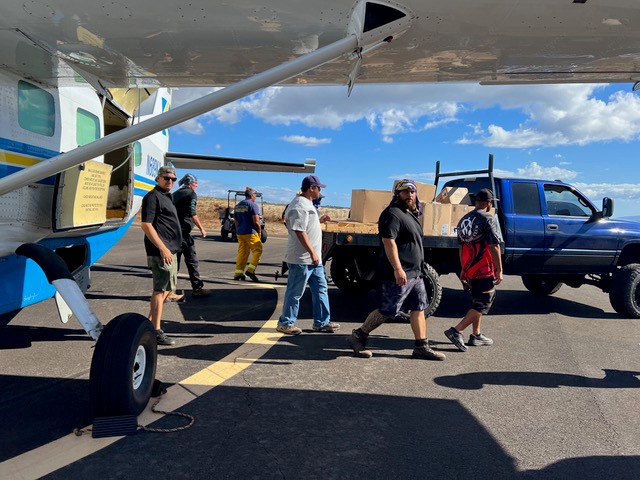 HONOLULU, Hawaii, Aug. 25, 2023 (GLOBE NEWSWIRE) — In a remarkable display of deep-rooted commitment and solidarity, Kamaka Air, a regional air freight delivery company serving the State of Hawaii, has expanded its relief efforts to support the citizens of Maui after deadly wildfires ravaged the island beginning Tuesday, August 8.
In continuation of its legacy to impact affected communities, Kamaka Air facilitated 10 evacuation flights and multiple free cargo flight deliveries with over 65,000 pounds of essential supplies, such as food, clothing, medicine, and household goods for citizens affected by the crisis.
"Our hearts are with the people of Maui during this challenging time, and we extend our deepest condolences to the families and friends who experienced the loss of a precious life. We hope that the essential supplies shipped, and our passenger charter flights provide comfort and relief for citizens who relocated temporarily for shelter," expressed Jim Petrides, President at Kamaka Air.
When news broke of the devastation in Maui, Kamaka Air received donations from over 41 contributors, such as the Hawaii Veterinary Medical Association, Hawaiian Humane Society, Nā Kama Kai, Ka Oni Canoe Club, Hawai'i State Teachers Association, United Public Workers, RevoluSun, and the Four Seasons Resorts among others. The collective effort of these organizations demonstrates the spirit of unity across the region in times of hardship.
"We recognize our donors and community heroes, such as Archie Kalepa, a world-renowned waterman, surfer, and retired lifeguard who, with his team of volunteers, responded quickly to the needs of the Lahaina community and provided much-needed medical supplies, essentials, and life-sustaining food to those in need. His immediate response to the disaster saved hundreds of lives in Lahaina," stated Joelle Aki Aoki, Government Affairs Officer and Lana'i Station Manager at Kamaka Air.
As the Lahaina community seeks to rebuild and restore Maui, Kamaka Air's actions underscore its dedication to supporting neighboring communities and alleviating distress during crises. The air freight delivery company's contributions stand as a testament to the remarkable impact that collective goodwill can achieve.
About Kamaka Air: Established in 1993 and headquartered in Honolulu, Kamaka Air specializes in air cargo and private passenger services within Hawaii. The company offers a comprehensive array of services including scheduled per-pound cargo flights, on-demand same-day charter flights, and private passenger travel. For further details, please visit: https://www.kamakaair.com/.
For media inquiries, please contact Joelle Aki Aoki at [email protected].
A photo accompanying this announcement is available at https://www.globenewswire.com/NewsRoom/AttachmentNg/84e3b860-4025-4971-8d75-c7a9c57842f1

Originally published at https://www.einpresswire.com/article/651957250/kamaka-air-provides-aid-amid-maui-crisis-over-65-000-pounds-of-supplies-airlifted-to-support-the-lahaina-community