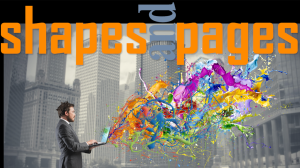 Video cover image is Shapes and Pages logo and multi-colored portrayal of creativity spreading from laptop
Semrush Certification is recognition of mastery of both SEO strategies and of the toolset.
Video Production adds additional value to our services portfolio.
INDIANA, UNITED STATES, August 17, 2023/EINPresswire.com/ — Shapes and Pages, a digital marketing agency expert at increasing organic search engine traffic, is pleased to announce its recent certification through the Semrush Academy, earning the esteemed status of Semrush Certified Agency Partner.
The Semrush Certified Agency Partner status serves as a testament to Shapes and Pages' demonstrated expertise and proficiency in search engine optimization (SEO) techniques and the effective use of Semrush's powerful SEO toolset. This recognition underscores the agency's dedication to staying current with the latest SEO best practices and providing clients with the most effective strategies to enhance their online presence.
Shapes and Pages offers a variety of modular SEO packages tailored to address distinct online needs and challenges. Clients can opt for a comprehensive SEO solution by combining multiple packages or concentrate on a specific single aspect, such as selecting only a Local Search package. Our solutions encompass National SEO, Local Search, PPC Advertising, Social Media Marketing, and Website Management. We provide two levels of packages, divide our offerings into Standard and Premium Packages, enabling businesses to select services based on their specific requirements and budget.
The recent increase in client requests resulted in the addition of video productions to our service packages. This standard offering allows us to deliver additional value from the close working relationship we have with our clients, but also removes the fear of sticker shock when shopping for video content. With the growing significance of multimedia in narrating a brand's story, we have incorporated the creation of compelng promotional videos as well as short social media videos. Our team render these videos in a manner designed to engage audiences, reinforce brand recognition, and contribute to SEO enhancement while reflecting the personality of each client's business. This enhancement reflects our persistent effort to grow and adapt to our clients' diverse needs, keeping them ahead of their competitors.
By achieving the Semrush certification and providing an extensive array of SEO packages, Shapes and Pages reaffirms its commitment to excellence in effort and results without forcing clients to buy more than they need. Emphasizing a results-driven approach and unparalleled expertise, Shapes and Pages takes pride in delivering SEO services that are both highly effective and tailored to each client's specific objectives, ensuring measurable progress.
For more information visit the Shapes and Pages website to review the digital marketing services or visit the Semrush Agency Page to view the details that are published there. With extensive experience in manufacturing, travel, and a broad range of B2B markets, we can make a difference for you. Challenge us today!
About Shapes and Pages

Shapes and Pages is a digital marketing agency fueling growth in small and medium-sized businesses using industry-leading SEO techniques that deliver increases in organic search engine traffic, presenting more sales opportunities. The agency offers a range of services, including SEO, video productions, content marketing, and website optimization, to help clients achieve their online goals. With a focus on providing practical solutions that produce measurable results and a solid return on investment, Shapes and Pages is committed to delivering exceptional results that foster long-lasting client relationships.
Kevin Clinton
Shapes and Pages, Inc.
+1 574-366-3390
email us here
Visit us on social media:
Facebook
LinkedIn
Instagram
Other


Originally published at https://www.einpresswire.com/article/650131237/shapes-and-pages-earns-semrush-certified-agency-partner-status-and-offers-comprehensive-seo-packages-including-video