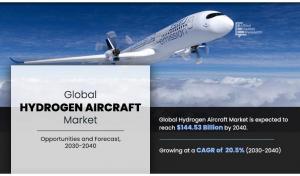 Hydrogen Aircraft Market Expected to Reach $144.53 Billion by 2040

OREGAON, PORTLAND, UNITED STATES , August 7, 2023/EINPresswire.com/ — According to a recent report published by Allied Market Research, titled, "Hydrogen Aircraft Market by Passenger Capacity, Range, Application, Power Source, and Application: Global Opportunity Analysis and Industry Forecast, 2030–2040," the global hydrogen aircraft market is projected to value at $23.71 billion in 2030, to reach $144.53 billion by 2040, registering a CAGR of 20.5% from 2030 to 2040.
𝐑𝐞𝐪𝐮𝐞𝐬𝐭 𝐒𝐚𝐦𝐩𝐥𝐞 𝐏𝐚𝐠𝐞𝐬 –https://www.alliedmarketresearch.com/request-sample/9108
Among the analyzed regions, Europe is the highest revenue contributor, followed by Asia-Pacific, North America, and LAMEA. On the basis of growth rate, Asia-Pacific is expected to grow at a higher growth rate during the forecast period, owing to increase in R&D for hydrogen-powered propulsion system in countries such as China, Japan, South Korea among Others.
A hydrogen aircraft is an airplane that makes use of hydrogen (liquid or gas) as a power source. Hydrogen energy can be harnessed in two ways for a hydrogen aircraft. It can either be burned in a jet engine or other sorts of internal combustion engines, or it can be used to power a fuel cell to generate electricity to power propeller of aircraft. Apart from aircraft propulsion, hydrogen can be used to power all flight and communication systems in the cockpit, while ensuring passenger comfort by powering lighting, heating, and all on-board services, including catering and refrigeration.
The companies profiled in the global hydrogen aircraft market report are AeroDelft, Aerovironment, Inc., Airbus S.A.S., Alaka'i Technologies, HES Energy Systems, Pipistrel d.o.o, PJSC Tupolev, The Boeing Company, Urban Aeronautics Ltd, and ZeroAvia, Inc., Airspace Experience Technologies, Inc., Alisport Srl, Apus Group, BAE systems, Bell Textron Inc. (Bell Helicopter), Bye Aerospace, DeLorean Aerospace, LLC, DigiSky s.r.l., Doosan Mobility Innovation, EHang, E-PROPS (Electravia), EMBRAER S.A., Eviation Aircraft, Flyka, GKN Aerospace Services Limited (Melrose Industries PLC), Honeywell International Inc., HyPoint Inc., Intelligent Energy Limited, Israel Aerospace Industries, Joby Aviation, Karem Aircraft Inc., Lilium, Lockheed Martin Corporation, Northrop Grumman Corporation, Plug Power Inc., Rolls-Royce plc, Saab AB, Safran, Shanghai Pearl Hydrogen Energy Technology Co., Ltd., Thales Group and Volta Volare Inc.
𝐈𝐧𝐪𝐮𝐢𝐫𝐞 𝐁𝐞𝐟𝐨𝐫𝐞 𝐁𝐮𝐲𝐢𝐧𝐠 – https://www.alliedmarketresearch.com/purchase-enquiry/9108
The factors such high suitability of hydrogen as the aviation fuel and reduced greenhouse gas emissions are expected to drive growth of the global hydrogen aircraft market size during the forecast period. However, high costs associated with the production and handling of hydrogen is anticipated to obstruct the market growth during the forecast timeline. Furthermore, developing green hydrogen ecosystem, proactive government initiatives toward hydrogen powered aircraft, and growth in infrastructural development for hydrogen across the globe offer future growth opportunities for the market.
Key Findings Of The Study
By passenger capacity, the 101 to 200 segment is expected to register a significant growth during the forecast period.
By range, the short haul (<1,000 Km) segment dominated the global hydrogen aircraft market in 2030, in terms of revenue
By application, the cargo aircraft segment is expected to register a significant growth during the forecast period, owing to the highest CAGR.
By power source, the hybrid electric aircraft segment dominated the global hydrogen aircraft market in 2030, in terms of revenue
COVID-19 Impact Analysis:
The COVID-19 pandemic not only affected operations of the aviation industry, but the economic crisis also led to reduction in expenditure on next-generation technologies, for instance, hydrogen-fueled aircraft. Many governments trimmed their spending on other sectors and poured a hefty amount of investment in improving healthcare facilities to lessen dangers pertaining to the pandemic. Before COVID-19, the aviation industry witnessed continuous growth in air passenger traffic and in revenues. Governments all around the globe were focusing on investing huge amount for hydrogen-based aircraft and related technologies. However, adverse impacts of the COVID-19 pandemic have resulted in interruption in activities and initiatives regarding development of hydrogen-based aircraft.
𝐏𝐔𝐑𝐂𝐇𝐀𝐒𝐄 𝐅𝐔𝐋𝐋 𝐑𝐄𝐏𝐎𝐑𝐓 𝐎𝐅 – https://www.alliedmarketresearch.com/hydrogen-aircraft-market/purchase-options
David Correa
Allied Analytics LLP
1 800-792-5285
email us here
Visit us on social media:
Facebook
Twitter
LinkedIn


Originally published at https://www.einpresswire.com/article/648692081/sohydrogen-takes-flight-analyzing-opportunities-and-challenges-in-the-hydrogen-aircraft-market