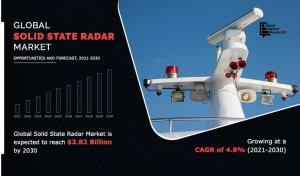 The global solid state radar market growth is driven by rise in demand for advanced weather monitoring radar and development of phased-array solid state radar"
— David Correa
WILMINGTON, DELAWARE , UNITED STATES, October 19, 2023 /EINPresswire.com/ — Allied Market Research published a report on the Solid State Radar Market by Frequency Band, Waverform, and End User: Global Opportunity Analysis and Industry Forecast, 2021-2030. 
The global solid state radar market size was valued at $1.81 billion in 2020, and is projected to reach $2.82 billion by 2030, registering a CAGR of 4.8% from 2021 to 2030.
Download Research Report Sample & TOC:
https://www.alliedmarketresearch.com/request-sample/15247
Solid State Radar uses sophisticated electronics with high-end components to create cutting-edge devices that detect threats in an instant. Solid state radar is an important tool for meteorologists because it has the ability to detect precipitation in all kinds of weather conditions. The device relies on a technique called frequency modulation in order to do this successfully.
Growth of the global solid state radar market is anticipated to be driven by factors such as rise in demand for advanced weather monitoring radar and development of phased-array solid state radar. In addition, solid state radars are more energy-efficient which boosts the overall market growth. However, susceptibility to new jamming techniques acts as a major restraint for the global solid state radar industry. On the contrary, surge in demand for air surveillance radars is expected to create lucrative opportunities for this market.
Get Customized Reports with your Requirements:
https://www.alliedmarketresearch.com/request-for-customization/15247
Competitive Analysis: 
The competitive environment of the solid state radar industry is further examined in the report. It includes details about the key players in the market's strengths, product portfolio, solid state radar market share and size analysis, operational results, and market positioning. It comprises the actions taken by the players to grow and expand their presence through agreements and entering new business sectors. Mergers and acquisitions, joint ventures, and product launches are some of the other techniques used by players.
Some of the major key players of the solid state radar industry include:
⦁ BAE Systems
⦁ Furuno Electric Co. Ltd.
⦁ Honeywell
⦁ L3Harris Technologies
⦁ Leonardo S.p.A.
⦁ Lockheed Martin
⦁ Northrop Grumman Corporation
⦁ Raytheon Technologies
⦁ SAAB AB
⦁ Thales
The global solid state radar market is flourishing at a rapid pace. However, high manufacturing cost is still a concern for new entrants. Market players are generously investing in R&D activities to develop improved components to reduce overall costs of solid state radar system. In addition, according to industry experts, it is essential to optimize affordable prices for solid state radar products for long-term growth.
Region wise, the solid state radar market trends have been analyzed across North America, Europe, Asia-Pacific, and LAMEA. North America contributed maximum revenue in 2020. However, between 2020 and 2030, this market in Asia-Pacific is expected to grow at a faster rate as compared to other regions. This is attributed to increase in demand from emerging economical countries such as India, China, Japan, Taiwan, and South Korea.
Inquiry Before Buying:
https://www.alliedmarketresearch.com/purchase-enquiry/15247
Key Benefits for Stakeholders:
⦁ This study comprises analytical depiction of the global solid state radar market size along with current trends and future estimations to depict imminent investment pockets.
⦁ The overall solid state radar market analysis is determined to understand the profitable trends to gain a stronger foothold.
⦁ The report presents information related to key drivers, restraints, and opportunities with a detailed impact analysis.
⦁ The current solid state radar market forecast is quantitatively analyzed from 2020 to 2030 to benchmark the financial competency.
⦁ Porter's five forces analysis illustrates the potency of the buyers and the solid state radar market share of key vendors.
⦁ The report includes the market trends and the market share of key vendors.
About Us:
Allied Market Research is a top provider of market intelligence that offers reports from leading technology publishers. Our in-depth market assessments in our research reports take into account significant technological advancements in the sector. In addition to other areas of expertise, AMR focuses on the analysis of high-tech systems and advanced production systems. We have a team of experts who compile thorough research reports and actively advise leading businesses to enhance their current procedures. Our experts have a wealth of knowledge on the topics they cover. Also, they use a variety of tools and techniques when gathering and analyzing data, including patented data sources.   
David Correa
Allied Market Research
+1 800-792-5285
[email protected]
Visit us on social media:
Facebook
Twitter
LinkedIn


Originally published at https://www.einpresswire.com/article/662852159/solid-state-radar-market-size-is-anticipated-to-reach-2-82-billion-by-2030-registering-a-cagr-of-4-8