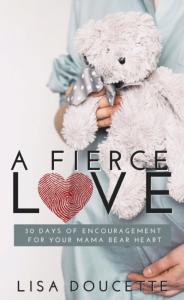 MYRTLE BEACH, SC, UNITED STATES, August 31, 2023/EINPresswire.com/ — Author, speaker, and parenting mentor Lisa Doucette unveils her latest book, "A Fierce Love: 30 Days of Encouragement for Your Mama Bear Heart," a heartwarming and empowering guidebook designed to inspire and uplift mothers on their journey through the joys and challenges of motherhood.
In a world where the role of a mother is both demanding and rewarding, "A Fierce Love" offers an invaluable resource that taps into the innate strength within every mother's heart. Doucette's captivating devotionals resonate deeply with readers and help them greater connect with the love of God. Through her compassionate insights and practical wisdom, she takes readers on a transformative 30-day journey that nurtures the maternal spirit, providing guidance, solace, and encouragement along the way.
"I wanted to create a book that celebrates the fierce love that mothers have for their children," says Lisa Doucette. "This book is a tribute to the unwavering dedication and determination that mothers embody and bring to the job every day. It's a daily dose of inspiration for the mama bear heart, reminding mothers that their strength is immeasurable."
Each of the 30 chapters in "A Fierce Love" is designed to help moms connect with God and then step out confidently into what God has in store for them. Doucette's words act as a soothing balm, providing the necessary encouragement to mothers at every stage of their journey.
"Take heart in this beautiful devotional written to speak to the hearts of all moms. Lisa does a beautiful job weaving solid Biblical truths with insights from her personal story and journey as a mom. You will find great hope and courage in this read as she relates with your heart. A Fierce Love is filled with inspiration and will leave you eager to embrace the gift of motherhood." —Jeannie Scott Smith, Founder, CEO Coastline Women's Center, Author & Speaker
"A Fierce Love: 30 Days of Encouragement for Your Mama Bear Heart" is available in both print and digital formats. It promises to be an essential addition to the bookshelves of mothers, grandmothers, caregivers, and anyone who understands the profound impact of a mother's love. You can order on Amazon here.
For more information about Lisa Doucette and her book, please visit her website at www.lisadoucette.net. To request a review copy or schedule an interview, please contact Lisa directly at: [email protected] or [email protected].
About the Author
Lisa Doucette is an author and speaker who is passionate about mentoring and encouraging moms to step confidently into the role of motherhood. She is also the president of Doucette PR and Communications and has many years of experience writing for parenting programs. Lisa calls the coast of South Carolina home, where she and husband, Dean, love to be outdoors biking and enjoying nature.
Tim Synan
HigherLife Publishing & Marketing
+1 407-563-4806
email us here
Originally published at https://www.einpresswire.com/article/652620124/introducing-a-fierce-love-by-lisa-doucette-a-guide-to-embracing-the-strength-of-motherhood