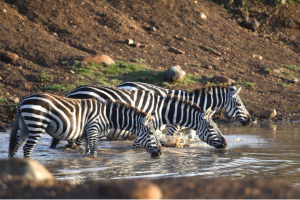 Herd of Giraffes in Masai Mara Natinal Reserve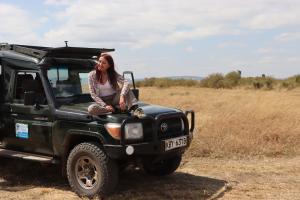 Game drive in Masai Mara National Reserve.
Mara Buzzing with Life as the 2023 Wildlife Migration Kicks Off
RUIRU TOWN, GREEC TOWERS, OFFICE NO D7 AND D8, KENYA, July 30, 2023/EINPresswire.com/ — The 2023 wildebeest migration kicked off this week in Masai Mara National Reserve, with massive herds of more than 3 million wildebeest, zebra, and other wildlife expected to cross the thunderous Mara River within the next few months.
The spectacle, otherwise known as the Great migration or the 7th wonder of the natural world, is the largest overland animal migration on the planet. It brings together hordes of herbivores, who must battle for survival, going against some of the savannah's apex hunters. Their most ferocious predators include the African lion, cheetah, leopard, jackals, and hyenas.
The Masai Mara's action-packed season typically runs from June- October, with tourists from all walks of life trooping into the country to catch a glimpse of this outstanding natural phenomena.
Speaking while at Masai Mara, James Gatheru, the owner of AJKenyaSafaris.com Ltd which also owns Kenyaluxurysafari.co.uk and MasaiMarasafari.in, said, "So far, more than 40,000 of these majestic beasts have already made the crossing, and the Mara is abuzz with activity. Picture this: the lion population, majestic rulers of the savannah, have been on the rise, displaying a delightful increase in both density and abundance over the last two years."
The wildebeest migration is more than just an event; it's an experience that seizes the heart and soul, leaving an indelible mark on our very being. It's a testament to the delicate balance of nature and a reminder of our responsibility to protect and preserve these treasures for generations to come.
So, let us celebrate this captivating study, which unlocks the secrets of the Maasai Mara's heart, revealing the pulse of its predators and the ebb and flow of life in its most splendid form. It's a story of resilience, of challenges faced and met, and of the endless wonders that make the Maasai Mara so profoundly phenomenal.
James Gatheru
ajkenyasafaris.com
54 704 532105
email us here
Visit us on social media:
Instagram
YouTube
TikTok


Originally published at https://www.einpresswire.com/article/647131578/mara-buzzing-with-life-as-the-2023-wildlife-migration-kicks-off