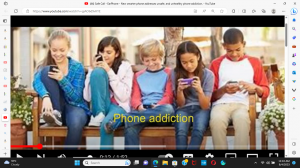 Phone Addiction International Crisis – Safe Call-Earphone – New No Screen Smarter Phone Invention
SAN DIEGO, CALIFORNIA, UNITED STATES, August 15, 2023/EINPresswire.com/ — "Open the pod bay doors HAL… Open the pod bay doors HAL "commands Dave, the spaceship captain, locked outside the main craft in a space pod. "I'm sorry Dave, I'm afraid can't do that" replies Hal 9000, the infallible computer, that suddenly, and shockingly, seized control of operations, in the classic movie, "2001: A Space Odyssey," (44) 2001: A Space Odyssey 4k HDR | Open the pod bay doors Hal – YouTube <https://www.youtube.com/watch?v=NqCCubrky00>. From a scene in the movie, "War Games" comes the grim line, "Let's play thermonuclear warfare!" 44) Wargames (1983) Part 2 WOPR Gets the iCBM Launch Codes HD Global Thermonuclear War – YouTube <https://www.youtube.com/watch?v=U6MIHxqswj0>.
These terrifying computer and AI machination alarms from the 20th century, were portents for an international safety crisis to come, a crisis that now rages into the 21st century, reports the Automobile Safety Foundation, founded August 8, 1988.
Bold machine warnings are not new. as the great poet William Blake wrote in the eighteenth century, "Machine; destructive to art and humanity, and so the word, machination."
With the advent of the 21st century modern technological age unfolds, a computer global safety and health crisis, deadly malaise, now known as, "phone addiction." A few years ago, in a podcast interview, Elon Musk revealed that humans are, "addicted to AI…the mobile phone." An addiction causing worldwide fatal and injurious driving and walking accidents daily 24/7. The NHTSA calls distracted driving a, "deadly epidemic."
There are six billion mobile phone users. People cannot safely stare at their mobile phone while in motion, walking and driving, and most people do not even realize this, or will just do it anyway. The result of this practice is unceasing accidents, injuries and fatalities.
Perhaps the "smartphone" is not so smart after all, or too smart for your own good! Either way, the humans must outsmart it. Open the pod bay doors HAL.
The Automobile Safety Foundation, NPO the leader in driving safety research and development since 1988, has international lifesaving research and valuable IP at, carsafe.org to help address this crisis. Two years ago, ASF contracted with Poetry Band Publishing (BMI) poetryband.com to produce driving safety PSA jingle, Eyes on the Road Hands on the Wheel, now promoted by the National Association of Broadcasters https://psa.nab.org/campaign.asp?id=169 and carsafe.org/jingle-2. Airplay of these words saves lives, so for public safety, everyone should try and help share the good word.
ASF, continuing with key road concentration research and development, released the passenger word alert, Copilot Driver License, Copilot Driver License – the Lifesaving NFT. Soon thereafter, ASF introduced the Safe Call IP, carsafe.org/safe-call/ to address hazardous and outdated business public telecom 800 numbers etc. that encourage texting accidents with outdated prompt pushing requirements. Last year ASF US Bank joined the Safe Call ranks updating their main 800 number. Now, from 34 years of research, this year ASF is introducing the revolutionary new, Safe Call-EarPhone, that utilizes voice technologies, and has no screen to cause distraction, Safe Call – EarPhone – New smarter phone addresses unsafe, and unhealthy phone addiction. – YouTube (Patent Pending, IP brokers contact, [email protected]). With no screen, Safe Call-EarPhone can vastly help reduce phone distraction accidents, and the unhealthy health hazards caused by staring at a small AI device.
William Blake also wrote an important insight concerning a broader interpretation of miracles "…a miracle in modern times, overthrowing the armies of Europe with a small pamphlet." Blake was referring to, "Common Sense" by Thomas Paine, a revolutionary booklet that served as a major catalyst leading to American independence.
Throughout history, poets, prophets, and watchmen, proclaimed revelation and words of wisdom to warn and enlighten…and they still do. "All across the starry poles/words/ save lives/words/save souls" Poetry Band Publishing shares "word miracle," here and at (poetryband.com) and will be releasing the new Poetry Band trilogy album, and poetry books, PSALM and Poetry Play by Wilson Sherman, as books, audiobooks. and video.
This has been your phone addiction wakeup call.
Watch where you are going and stay alive and well.
Sandy Hills

ASF- Automobile Safety Foundation

+1 858-220-4992

email us here

Visit us on social media:

Twitter
Sandy Hills
ASF- Automobile Safety Foundation
858-220-4992
email us here
Phone Addiction – Wake Up Call
Originally published at https://www.einpresswire.com/article/650055475/phone-addiction-global-crisis-wake-up-call