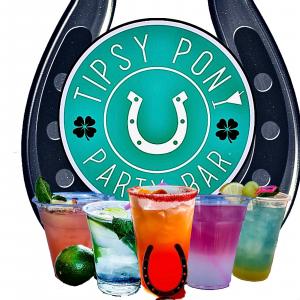 The renowned portable bar company offers customized mobile bar services.
WENTZVILLE, MISSOURI, UNITED STATES, August 10, 2023/EINPresswire.com/ — Tipsy Party Pony Bar, the premier name in event entertainment, is delighted to unveil its innovative and tailored mobile bar services, setting a new standard for event experiences.
The company's commitment to delivering exceptional and unforgettable occasions has led to the development of a service that exceeds expectations, catering to clients' diverse needs and preferences. The agency offers customized bartender services for weddings and other events.
The representative at Tipsy Pony Party Bar stated, "At Tipsy Party Pony Bar, we believe that every event is an opportunity to create a unique and memorable experience."
From corporate gatherings and weddings to birthday celebrations and festivals, Tipsy Party Pony Bar is vital in offering well-crafted bar service. They help in enhancing the overall ambiance of any event. Recognizing the need for personalized experiences, the company has curated an array of customizable packages designed to cater to the unique requirements of each event.
Tipsy Party Pony Bar prides itself on being a trendsetter in the event industry by offering fully customizable mobile bar services. The company recognizes that each event is distinctive and, thus, provides an extensive range of options. Clients can handpick their preferred beverage selections, from artisanal cocktails and premium wines to craft beers and refreshing mocktails.
Moreover, the company provides an opportunity to tailor the aesthetics of the mobile bar to harmonize with the event's theme, ensuring a seamless integration that captivates guests' attention. With a versatile team of experienced mixologists and bartenders, Tipsy Party Pony Bar crafts an exquisite and personalized beverage menu that aligns perfectly with the event's atmosphere and style.
Clients can explore an array of Bar Service Packages/Pricing, ranging from the "Classic Elegance" package, offering a selection of timeless cocktails and premium spirits, to the "Vibrant Fiesta" package, designed to infuse a festive spirit into any occasion with vibrant drinks and energetic bartenders. Each package is meticulously crafted to cater to various preferences and budgets, reflecting Tipsy Party Pony Bar's commitment to inclusivity and excellence.
The team behind Tipsy Party Pony Bar comprises industry veterans who bring experience and creativity to every event. Their expertise ensures the highest service standards and guarantees a seamless and enjoyable experience for hosts and guests.
The mixologists' artistry and knowledge of the latest mixology trends add an element of excitement to the bar service, turning it into an engaging and interactive event component.
The representative added, "Our commitment to customization ensures that each aspect of our mobile bar services is tailored to match the essence of the event."
The company's dedicated team is readily available to assist in tailoring the perfect bar service that aligns with your event's vision and objectives. They offer bar services for weddings and other events.
About Tipsy Party Pony Bar –

Established to redefine event entertainment, Tipsy Party Pony Bar is a pioneer in providing customized mobile bar services. With an unwavering commitment to excellence, innovation, and customer satisfaction, the company has set a new benchmark for event experiences. Tipsy Party Pony Bar aims to create unforgettable moments that leave a lasting impression by offering a range of fully customizable packages.

Media Contact
Tipsy Pony Party Bar
+1 314-322-1812
[email protected]
Visit us on social media:
Facebook
Twitter
Instagram


Originally published at https://www.einpresswire.com/article/649277510/tipsy-party-pony-bar-organizes-events-with-customized-mobile-bar-services