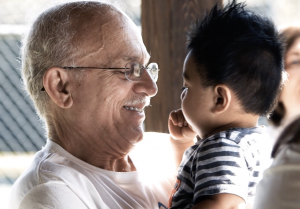 Uncle Nick reunited with A Safe Haven for Newborns baby.
A Safe Haven for Newborns 22 Years Saving Lives
My life is a bright light because of my Uncle Nick."
— Kristopher
MIAMI, FLORIDA, UNITED STATES, August 10, 2023/EINPresswire.com/ — Nick Silverio founded The Gloria M. Silverio Foundation 501 C3 to be the voice for the newborn, the most vulnerable among us. It has one program, A Safe Haven for Newborns; and one mission to end infant abandonment by rendering aide, in complete anonymity, to girls/women facing an unexpected pregnancy.
The award-winning Miami-based production company, Accord Productions, produced the documentary, Uncle Nick, which chronicles the first 22 years of the Foundation. The premier of Uncle Nick will be held on August 24 at the Miracle Theater in Coral Gables, Florida. There will be a welcome reception at 6 PM followed by the documentary film starting at 7:30 PM. Tickets for the event can be reserved by going to The Actors Playhouse.
The Foundation was created in 2001 in response to the escalating worldwide crisis of infant abandonment. After some research, Nick discovered Florida did not have a program in place that a girl or woman facing an unexpected pregnancy could turn to for help.
Silverio set out to assemble a network of organizations across the state of Florida to address the needs of the expectant mothers and soon a partnership was born. The key to the Foundation's success is the collaboration between hospitals, fire/EMS stations, A Safe Haven for Newborns and the human touch. "A Safe Haven for Newborns has multiple missions. First is to protect newborns from abandonment; the second is to provide resources for the mom caring, compassionate, and nonjudgmental support so that they can make the best decision possible for them and their babies, said Daniel Moran, Battalion Chief, Davie Fire Rescue.
Three-hundred-seventy-seven lives have been saved and over 6,000 women have been helped since inception and Florida has seen a decrease in infant abandonment. "My life is a bright light because of my Uncle Nick. Because of your hard work, tireless effort and unwavering love Uncle Nick, my life and the lives of hundreds of children have been saved," said Kristopher, one of the first A Safe Haven for Newborns babies and now in college.
Safe Haven for Newborns has brought joy to many couples waiting to adopt a child. If the birth mother decides that the best thing she can do for her newborn is to place the baby for adoption, she is giving that child the greatest gift, the gift of a future. For the adoptive couple, a child to love and raise and form a family. And for the young mother, a second chance.
A Safe Haven for Newborns is a statewide program that has garnered national and international attention. The program offers referral services across all 67 Florida counties. Such as for: maternity homes, shelters, counseling, health-related issues, help for abuse, suicide prevention, connecting them to Medicaid, and information for adoption; open or closed. It offers a 24/7 multi-lingual confidential helpline and information through its website, www.asafehavenfornewborns.com.
Silverio, "Uncle Nick", can be found in his office seven days a week, his phone within reach. His favorite quote is from Mark Twain, "The two most important days in your life are the day you are born and the day you find out why." Because Nick Silverio is living his "why" lives are being saved, families are coming together, and the birth mothers are given a second chance. Many lives are positively touched by the desire of one man to be of service.

-30-
ABOUT THE GLORIA M. SILVERIO FOUNDATION
The Gloria M. Silverio Foundation 501 C3 dba A Safe Haven for Newborns, is a nonprofit organization founded in 2001 by Nick Silverio. A Safe Haven for Newborns assists girls/women facing an unexpected pregnancy — saving two lives — in complete anonymity, protecting her right to privacy. For information, visit [email protected].

Nick Silverio
A Safe Haven for Newborns
+1 786-246-1304
[email protected]
Visit us on social media:
Facebook
Twitter
LinkedIn
Instagram
YouTube


Originally published at https://www.einpresswire.com/article/648881128/uncle-nick-a-documentary-of-one-man-s-pursuit-to-give-voice-to-the-most-defenseless