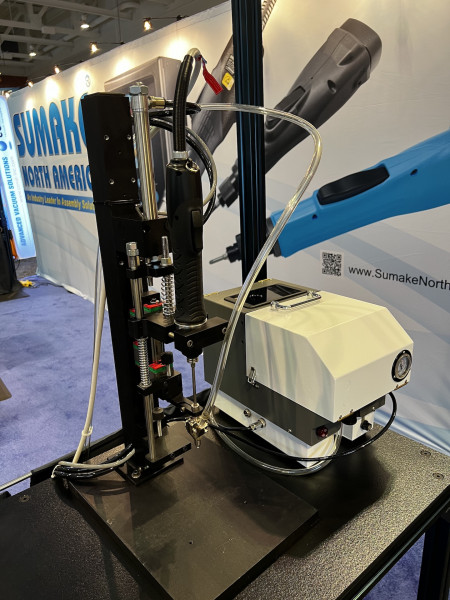 Press Release
•

Apr 13, 2023
This semi-automatic bench top machine is designed to automate screw feeder systems.

AMHERST, N.H., April 13, 2023 (Newswire.com)
–
Express Assembly is releasing its newest product, the Bench Top Machine BT-001 from Sumake. This semi-automatic bench top machine is designed to automate screw feeder systems. It holds the screwdriver and automatically lines up with the part, eliminating the need for an operator to hold the driver. 
This machine is the newest addition to Express Assembly's line of automation products. It helps to streamline assembly processes by minimizing operator involvement, especially when integrated with a screw feeder. This automation also helps to speed up production and save costs.
The key benefits of this bench top machine include:
"Assembly automation is key in helping our customers increase efficiency and productivity," said Kimberly Deppen, Express Assembly's VP of Sales. "This bench top machine is a great example of how Express Assembly continues to simplify assembly processes for our customers, which saves them time and increases accuracy."
To learn more about this bench top machine, visit Express Assembly's website: https://www.expressassembly.com/bench-top-machine/.
Check out the BT-100 in action: https://youtube.com/shorts/QH-1v4P5Ku0?feature=share
About Express Assembly:
Express Assembly was founded in 2005 to offer high-quality Sumake torque tools and supplies directly to the end-users. We serve more than 2,000 customers in the U.S., Canada, Mexico, and Australia. We ship anywhere in the world from our facilities in southern New Hampshire. Express Assembly Products' torque screwdrivers and assembly tools are essential for companies looking to ensure the quality of their product assemblies with repeatable reliable torque. Common applications are found in industries like electronics, medical manufacturing, automobile manufacturing, contract manufacturing, and anywhere fasteners are used to assemble a product.
Source: Express Assembly
Originally published at https://www.newswire.com/news/express-assembly-releases-new-bench-top-machine-22009591